We currently have 2 birth pools from 'Birth Pool in a Box' for use. One is the 'mini' and the other is 'Birth Pool in a Box Eco Pro'.
Sizing details:https://www.birthpoolinabox.co.uk/pages/size-guide
A TENS machine is also available through the library. Contact Rachael for more information.
Please see below a list of the books we currently have available. All books and items are available to borrow free of charge to Cuidiú members. Please contact Rachael by email on library.cuidiudsw@gmail.com or through the Facebook group if you would like to borrow or reserve a birth pool, TENS machine or book.
Borrowing Guidelines
This service is currently available to paid members only.
Lending and reservation lists are on a "First Come, First Served" basis
You are responsible for the book and it should be returned in the condition that it was given to you in
Should the book become damaged or lost you must either replace the book or pay the cost price so we may replace it
Guide rental time is 1 month however you may request to hold onto the book for longer if there is no reserve on it
In order to borrow a pool from us you firstly need to be a paid member of Cuidiu and show proof of membership (screenshot is fine). Secondly, we ask for a €50 cash refundable deposit.
Pregnancy, Childbirth and Breastfeeding
The Complete Book of Pregnancy and Childbirth (4th edition) – Sheila Kitzinger x 2
Breastfeeding your Baby – Sheila Kitzinger
Homebirth and Other Alternatives to Hospital – Sheila Kitzinger
The New Experience of Childbirth – Sheila Kitzinger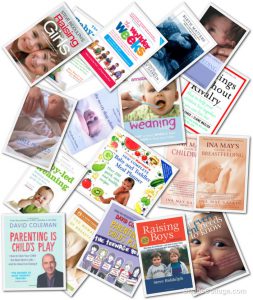 Plan to get Pregnant: 10 Steps to Maximize Fertility – Zita West
The Best Friends' Guide to Pregnancy – Vicki Iovine
Guide to Childbirth – Ina May Gaskin
Guide to Breastfeeding – Ina May Gaskin
Birth Matters – Ina May Gaskin
Hypnobirthing – Marie Mongan
Childbirth without Fear – Grantly Dick- Read
Birth and Breastfeeding – Michael Odent
Breastfeeding – Renfrew, Fisher and Arms
The Expectant Father: Facts, Tips and Advice for Dads to be (3rd edition) – Brott and Ash
Three in a Bed: the Benefits of Sleeping with your Baby – Deborah Jackson
Gentlebirth – Tracy Donegan (CD and book)
The Happiest Baby on the Block – Harvey Karp (DVD)
Sleep, sleep, sleep now (CD)
Development, Parenting and Weaning
Baby Development – Dr Claire Halsey
The Wonder Weeks – Van de Rijt and Plooij X2
The Healthy Baby Meal Planner- Annabel Karmel
Weaning- Annabel Karmel x2
The Baby led Weaning Cookbook – Rapley and Murkett
Feeding your Baby Day by Day- Fiona Wilcock
Parenting is Child's Play – David Coleman
Parenting is Child's Play: The Teenage Years – David Coleman
Baby Led Weaning, Helping your Baby to love good food – Rapley and Murkett
My Child won't eat! – Carlos González
What to Expect: The toddler's years – Murkoff, Eisenberg and Hathaway
What Every Parent Needs to Know – Margot Sunderland
Raising Boys – Biddulph x2
Raising Girls – Biddulph
The no cry Sleep Solution – Elizabeth Pantley
Bully-proof Kids – Stella O'Malley
Siblings without Rivalry – Faber and Mazlish
Waiting for Baby – Rachel Fuller
My New Baby – Rachel Fuller