Cuidiú antenatal classes aim to provide information on all aspects of pregnancy and giving birth to assist you to make your own informed choices. The classes aim to empower you and your birth partner to be confident in your ability to give birth with a wide variety of skills and knowledge.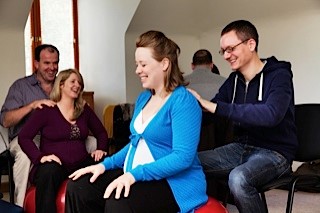 For information about antenatal classes in your area please contact the following Cuidiú antenatal teachers:
Fidelma Whelan (0872957971) – One and Two Day Antenatal and Early Parenting courses with venues in Ranelagh and Ballsbridge. She also provides options for one-to-one sessions. www.dublinsouthantenatal.com
For other options in different areas please see further Antenatal Ireland options here
Antenatal Ireland Educators:
Have completed a two-and-a-half-year Diploma in Antenatal Education.
Are Licensed to practice by Cuidiú who are a nationwide parent-to-parent support group run by volunteer parents.
Undergo continuous education to maintain their licenses to practice and for quality assurance.
Are facilitators of presentations and lectures on antenatal education to health professionals and midwifery students
There are antenatal courses and there are Antenatal Ireland Courses!
Antenatal Ireland courses follow a format that is unique in antenatal education in Ireland:
Small groups sizes allow time for questions and to get to know others.
Facilitated by highly educated professionals.
Evidence-based information imparted in an empowering, interactive and practical way.
All birth options are discussed so that you can work out how you'd like to approach labour, rather than telling you the 'right' way.
At times that suit you.