Cuidiú antenatal classes aim to provide information on all aspects of pregnancy and giving birth to assist you to make your own informed choices. The classes aim to empower you and your birth partner to be confident in your ability to give birth with a wide variety of skills and knowledge.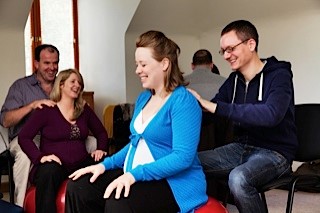 www.antenatalireland.ie can provide you with more information on virtual classes available during the pandemic.
For information about antenatal classes in your area please contact the following Cuidiú antenatal teachers:
Kathy Cleere: Citywest and Naas area – 1 day and private 1:1 sessions – (087) 9590043, kcleere@tcd.ie
We facilitate different formats; 6-8 week evening classes, one day classes, two full Saturdays and one-to-one sessions. We have courses for those expecting their first child or expecting subsequent children. We have older parents, younger parents, single parents and parents whose first language is not English.
We facilitate the classes in small groups to give everyone an opportunity to have their needs met. Each new group will have an input in deciding on the topics for their course. Topics that often arise are labour, birth, postnatal issues, breastfeeding and baby care skills.
Cuidiú Antenatal Teachers also offer Relax, Stretch and Breathe Classes. These classes are uniquely designed to be a fusion of antenatal classes and gentle yoga-based stretching, relaxing and breathing for pregnancy. The classes are held in the Mounttown Community Facility every Monday from 7.30 pm to 9pm.
Cuidiú Antenatal Educators undertake a full training programme to gain a professional qualification in antenatal education. Our teachers have trained either through the National Childbirth Trust (NCT) UK or within the Cuidiú Antenatal Teacher Training programme. They hold Diplomas in Antenatal Education. Cuidiú now provides antenatal teacher training in Ireland and the training programme continues to be a rigorous and innovative approach to training in antenatal education.
Once qualified, Cuidiú Antenatal Educators gain a Cuidiú (Antenatal Ireland) Licence to Practise. Cuidiú (Antenatal Ireland) assures quality with ongoing training and supervision.
Educators are required to attend study days, keep their knowledge on research up to date and have an in-depth knowledge of current developments in the field.
Standards are maintained by regular reviews, the first review after one year of practice and thereafter every three years. The License to Practice is renewed annually only if the requisite conditions are met.