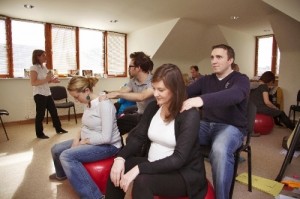 A 6-week antenatal course with Cuidiu Antenatal teacher Mim Hanan Moran starts soon in Rathfarnham. The dates are as follows:  Tuesday 11thand 18th December, and  8th , 15th, 22nd and 29th January 2013.
Each class will take place from 7:00 to 9:00pm each Tuesday evening. Any preferred time or evening of the week changes can be organised by the group on the first night. Or in advance of the course by email.  A local Cuidiu breastfeeding counsellor will facilitate a breastfeeding information session as part of the course.
Mim will organise a date for the postnatal meeting in the last class.
The classes will take place at: 5 Highfield Court, Marley Grange, Rathfarnham, Dublin 16. However, this venue might change, depending on the numbers attending the course.
The course will include such topics as labour, birth, postnatal issues, choices of care and parenting issues. In the first class the group will be given an opportunity to set an agenda for the course, where you can bring up any topics or issues that you may have concerns about or wish to gain further knowledge in.
Please fill out and return the BOOKING FORM
The cost of the course is €150  – €50 deposit (non refundable), to hold your place for attendance.. The fee includes membership to the local branch of Cuidiu, the Irish Childbirth Trust. We run parent and toddler groups, breastfeeding support services, evening meetings, and other activities. The fee also allows course attendees a discount on the price of infant massage courses I regularly facilitate and doula services I offer.
Please contact Mim if you have any questions mimhananmoran@gmail.com or (087) 7790293
Mim