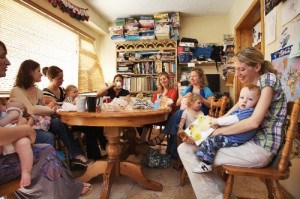 The Cuidiú Dublin South West branch runs a regular morning breastfeeding support group in Rathfarnham as well as evening groups in various South West Dublin locations.
Rathfarnham
The Rathfarnham breastfeeding support group runs every Wednesday morning from 10:00am to 12:00pm in the parish centre of the Church of the Divine Word in Marley Grange, Dublin 16. (Access by car is off the Grange Road.)
**There will be no Wednesday morning groups in August, starting back Wednesday 4th September.**

Fee: €2 for members, €4 for non-members
Please see here for a map to Marley Grange.
Evening Groups
Time: 8pm – 10pm
Fee: €2 for members, €4 for non-members
Upcoming dates and Locations:
Tue 10th September @ Cathy's: 26 Westbrook Road, Dundrum
Cuidiú Dublin South West branch in partnership with our sister branch Dublin West (www.cuidiudublinwest) are delighted to add an additional evening breastfeeding meeting to our schedule, it will take place on the last Thursday of the month. Breastfeeding counsellors will be in attendance.
Thursday evening meeting: 8pm – 10pm
Date: Last Thursday of the month*
Time: 8pm – 10pm
Fee: €2 for members, €4 for non-members
Locations:
Thurs 29th August @ Lynn's: 40 River Forest, Leixlip
Who can go to Cuidiú breastfeeding support groups?
Mums-to-be who have an interest in breast feeding and/or are planning to breastfeed.
Mothers who are breastfeeding exclusively, supplementing, pumping exclusively or partially.
Mothers who have queries/concerns.
Mothers who are considering weaning or are no longer breastfeeding.
Mums who would like a cuppa, biccies and a chat.
Basically, every mum is welcome no matter at what stage of breastfeeding you are.
The fully trained breastfeeding counsellors will give encouragement and answer any questions you may have. There is a small charge to attend the Cuidiú DSW groups – €2 for members and €4 for non-members. If you have any queries, please contact Camille Whyte on breastfeeding.cuidiudsw@gmail.com
In addition our breastfeeding counsellors can be contacted at any time (details below).
Breastfeeding Counsellors

Mary McInerney

(086)8329156

Kerry West

(087)6962662

Veronica Quadu

(087)1379186

Camille Whyte

(087)2329593

Catherine Carroll

(087) 0557075

Henna Kinsella

(087)7800252

Paula Tahaney

(085)1334114

Dora Roman

(086)3216053
Breastfeeding information: Please visit the Cuidiú National website for comprehensive information regarding breastfeeding.